Armor Chomper is a plant owned by MegaVile2004
Armor Chomper




One of the few female Chompers.

Gender:

Female

Favorite Food:

Anything, but she loves eating metal.

Likes:

Chompers, food and Heavy Metal.

Dislikes:

Magnets (excluding Magnet-shroom), thunders and eletric-related things.
Personality
She is
Fire Chomper
best friend, they like to make a lot of things together. She is more serious than Fire Chomper, and she like to defend other plants. When she is sick, she spits a lot of spikes.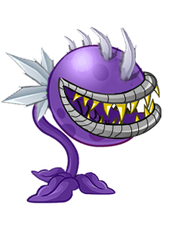 Hobbies
Hear Heavy Metal (Obviously)
Eat things along with Fire Chomper.
Powers and abilities
Eat everything
Like any other Chomper, she can devour anything. But she likes to devour Metal.
Metal Skin
Armor Chomper has a skin that can't be destroyed. Her skin can only be destroyed by Magnets, but would kill her.