No Title




Gender

Male

Race

Plants

Abilities

Can shoot out artichoke missiles that can damage a group of zombies in a lane

Faction

Unknown

Health

250

Location
Artichoke is a plant owned by CitronFire3.
Personality
Grown off of a farm, Artichoke wasn't always like the other Artichokes in the farm. He had eyes and had cool attacks. One day, Artichoke ran off into the wild and made his way to Plantville, where he found Crazy Dave. Zombies were attacking the home when he got there so he used his newborn powers to defeat the zombies. After Dave asked him if he wanted to live with him.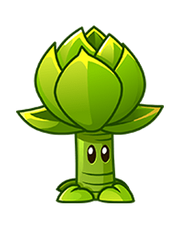 Hobbies
Eat some artichokes (weird right?)
Powers and Abilities
Artichoke Missiles
Artichoke can spit out Artichoke Missles that explode and do damage to multiable zombies
Artichoke Bombs
Artichoke can make Artichoke bombs that kill a zombie instantly when stepped on
Plants that are fanon
Plants that are canon
Plants that are Named
Roleplays
Zombies that are Canon
Zombies that are Fanon
Zombies that are named

Boot-legs
Garden Warfare Characters
Heroes
"Be Right Back!"

This article will be edited shortly.