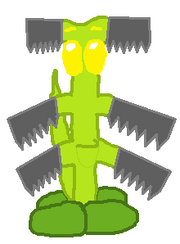 Boot-leg Kangaroo Saw is owned by S.O.A.P. Games. As usual, you can use her anytime you want, as long as he isn't using her already.
Personality
Alot like her non Boot-leg self, Kangaroo Saw, but Boot-leg Kangaroo Saw supports the good side, but will pretend to like other Boot-legs and support them.
Sadly, she gets too convincing, and makes the non-Boot-legs think she does support the Boot-legs except Kangaroo Saw, as they're pretty much the same, Corn Shears, and Snow Pea.
Also, unlike most boot-legs, she can't regenerate. Instead, her arms can come off.
Friends
Kangaroo Saw
Corn Shears
Rosemerry
Oopsy-Daisy
Boot-leg Rosemerry & Boot-leg Oopsy-Daisy (they won't harm non-Boot-legs now)
Bankersia
Someone mysterious...
Enemies (Fake Friends are bold)
Boot-leg Kernel-pult
The Booter
Boot-leg Flaming Pea (suspicious)
Boot-leg Blover
Boot-leg Magnet-shroom (she sticks to him, but not on purpose :/ )
Neutral with other Boot-legs, doesn't really see much.
Trivia
In Series 3 (Ep 2) where 'the team' go to the future, Boot-leg Kangaroo Saw was forced to kill Kangaroo Saw. In the end, they both ended up fake-killed each other and Kangaroo Saw was the only Non-Boot-leg female survivor. Apperently, Kangaroo Saw's arms can also come off, but is much harder to do.
Ad blocker interference detected!
Wikia is a free-to-use site that makes money from advertising. We have a modified experience for viewers using ad blockers

Wikia is not accessible if you've made further modifications. Remove the custom ad blocker rule(s) and the page will load as expected.