Cantaloupe-Pult




Gender

Female

Race

Plants

Abilities

Can fire out Honeydews's from it's pult. And can fire many many Honeydew's out of thin air to smash bad guys.

Faction

Unknown

Health

400

Location
Cantaloupe-pult is a plant owned by Devon.
Personality
Cantaloupe-Pult hates honydew's. Even though she launches Cantaloupe's she just tries to throw them away as fast as she can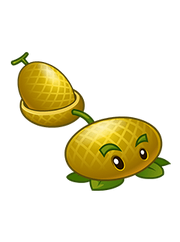 Hobbies
Powers and Abilities
Honeydew Launch
Can fire a Cantaloupe from it's pult to damage zombies in 3 lanes and do massive damage
Thin Air Honeydew's
Can make's appear out of thin air to kill bad guys.
Ad blocker interference detected!
Wikia is a free-to-use site that makes money from advertising. We have a modified experience for viewers using ad blockers

Wikia is not accessible if you've made further modifications. Remove the custom ad blocker rule(s) and the page will load as expected.