The Cheetah is a Luxury Sport Car that is very expensive. It is everything-proof (Including Rocket Launchers), although you can attack the driver by breaking the glasses. The Cheetah can go through 5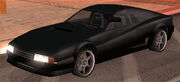 miles per hour. It has two doors only.
Ways of ownage
Stealing
It is stealable.
Purchase
You can purchase it from Peazooka's Cars.
Illegal Methods
You can do illegal methods (Other than stealing)
Variants
None.
Notable Owners
Ad blocker interference detected!
Wikia is a free-to-use site that makes money from advertising. We have a modified experience for viewers using ad blockers

Wikia is not accessible if you've made further modifications. Remove the custom ad blocker rule(s) and the page will load as expected.