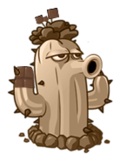 Cocoa is a standard member of the Cactus Squad. Although he had no rank, he is still more important than the generic cacti Cacdark summons to defend the headquarters.
Personality
Cocoa is a sensitive member of the Cactus Squad. Although evil, he still cares about the people around him. He also hates anyone who eats chocolate. He is also shy around women besides Futurita.
Ad blocker interference detected!
Wikia is a free-to-use site that makes money from advertising. We have a modified experience for viewers using ad blockers

Wikia is not accessible if you've made further modifications. Remove the custom ad blocker rule(s) and the page will load as expected.