Heli-pea is a childish plant who loves flying.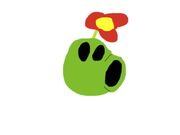 Him Vs. Zombies
He costs 125 sun to plant. He acts like a normal peashooter, but flies above zombies when they get near.
Him Vs. Plants
He doesn't usually fight plants, but when he does he acts like the garlic drone, but more damaging and tougher.
Friends
Snow Pea
Phamango
Carp
Enemies
Artichoke drone
Gallery
Quotes
"Hi, guys!"
Ad blocker interference detected!
Wikia is a free-to-use site that makes money from advertising. We have a modified experience for viewers using ad blockers

Wikia is not accessible if you've made further modifications. Remove the custom ad blocker rule(s) and the page will load as expected.