No Title




Owner

Electric Plants

Race

Plants

Abilities

Can Imitate plants and Enlarge his roots to catch zombies.

Define some things

Unknown

Health

1000

Gender

Male

Highschool

Fineshed it

Kind

Potato

Age

30

Imitater is a plant owned by Electric Plants. and is one of his favorites.
Personality
COMING SOOOOON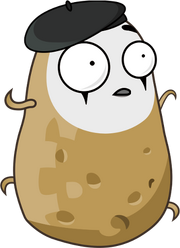 Hobbies
Imitate Plants
Explain to the plants
Wash his roots
Powers
Imitate
He can imitate any plant even Upgrades,Stars Family,Mushrooms,Zombies and of course himself
Roots
He can Enlarge his roots to catch the enemis
Ad blocker interference detected!
Wikia is a free-to-use site that makes money from advertising. We have a modified experience for viewers using ad blockers

Wikia is not accessible if you've made further modifications. Remove the custom ad blocker rule(s) and the page will load as expected.