The Jeep is a two-door (rarely four-door) is a Desert-SUV that can roam around off-roads easily without falling. It also can walk on moving mud, fastly. It is not fast and walks 107mph. It is also called Jeep Wrangler. The Jeep Dragon is always four door.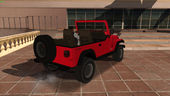 Price
S-OP4 CS
Ad blocker interference detected!
Wikia is a free-to-use site that makes money from advertising. We have a modified experience for viewers using ad blockers

Wikia is not accessible if you've made further modifications. Remove the custom ad blocker rule(s) and the page will load as expected.