NOPE Squid is chaarcter owned by Scaredy-Shroom. Its an op character, apparently 1337 times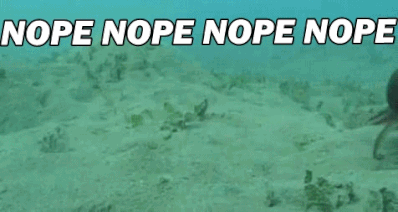 more powerful than WMag. The only motive because OPness is because NOPE Squid is immune to all damagae (Because he have NOPE cells) and can cast the spell NOPE, who can 1HKO EVERYTHING, towns people, universes, galaxys and more. NOPE Squid also have NOPEMLG, which is 9001 times better than regular MLG. He can survive in any environment, from inside a black hole to the center of a star, this is due to NOPE. He was born NOPE years before the Big Bang.
This chararcter is a joke, but he is used in RPs. But dont take him seriously!
Personality
NOPE
Relationships
Scissorman
NOPE
WMag
NOPE
Special NOPEs
TMK
NOPE, NOPE NOPE. UR NOPE!
(Translation from NOPE language: Thanks for adding MLG. You is also very NOPE!)
Wikia Critic aka TCC
NOPE, UR NOPE OF A NOPE!
(Translation from NOPE language: Shut up, your son of a ****!)
Winter Magnet
NOPE for NOPE. UR NOPE, BUT NOT AS NOPE AS NOTMKPE.
(Translation from NOPE language: Thanks for support. You is NOPE, but not as NOPE as TMK.)
Ad blocker interference detected!
Wikia is a free-to-use site that makes money from advertising. We have a modified experience for viewers using ad blockers

Wikia is not accessible if you've made further modifications. Remove the custom ad blocker rule(s) and the page will load as expected.