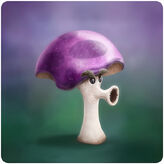 Scaredy

Name

Scaredy

Age

23-24

Occupation

Scavenger

Status

Alive

Ethnicity

Caucasian-Fungae

Nationality

Brazilian (Germanic, Italian)

Accent

Germanic
Scaredy is an character owned by Scaredy-Shroom. No use, unless permmision!
This character is indepedent of Scaredy-Shroom, an similar character. Any accusions of "steal" will be ignored.
Scaredy is the kind yet tricky to understand character. He is a thief, and posseses great agility and constantly get into fights with his
older brother.
Personality
He is an kind yet very acrobatic and strategic mushroom. Althought being weaker in health than strong characters such as Winter Magnet, he is capable of dodging and deal great damage with his gun. He tends to get angry easily but does likes friends.
Powers
He is considerably decent fighter, as his reflexes and agility makes most of the attacks useless, if properly timed. He has a low health output than most of characters however he has a dead-eye accuracy and great-extreme damage. His weapon of choice is a heavily modfied Beretta 92FS. he has great skills of mechanic, creating the most powerful weapon - an rail gun powered only by purpleaura, in one shot eliminating anything from earth, characters and everything. Obviously, its powered by rare purple aura, its not in sale, its heavy, it cannot be moved by normal means, its expensive to create and its useless without any aura.
TBA...more.
Ad blocker interference detected!
Wikia is a free-to-use site that makes money from advertising. We have a modified experience for viewers using ad blockers

Wikia is not accessible if you've made further modifications. Remove the custom ad blocker rule(s) and the page will load as expected.