Snow Grape is owned by NP. He launches jelly juice that freezes into a jelly ice block. He often uses that ability against Boot-legs, and sometimes Troglobites.
Personality
Complains a lot, has a bad sense of humor, and is sometimes a bully.
Likes
Dislikes
Shark Tank (the show makes him depressed for some reason)
CitronFire3 (he commonly melts his ice blocks)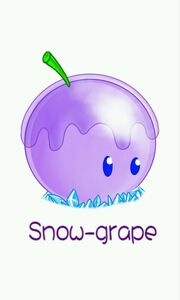 Ad blocker interference detected!
Wikia is a free-to-use site that makes money from advertising. We have a modified experience for viewers using ad blockers

Wikia is not accessible if you've made further modifications. Remove the custom ad blocker rule(s) and the page will load as expected.