Star-Fruit is a Plant owned by IdemSplix, but given to NP, and then given to the original owner.
Starfruit




He's from SPAAAACE!

Full name:

Starry "Directional" Fruit

Gender:

Male

Likes:

Space, stars, sharp things, babies

Dislikes:

Fakers, clones, dentist, bullies

Favorite food:

Chili Sandiwch

Status:

Deceased.
Personality
TBA
Powers
Stars Control
Star-Fruit can use stars to hurt his enemies. with differents types of Stars:
Real Stars: Acts as a real star. It is brilliant, and has its own heat. Often fired against zombie eyes.
Sharp Stars: Just like the Real Star type, but that star can cut zombie parts.
Giant Stars: That type can instant kill zombies in contact, except zombies with BIG metal objects.
Fly
Star-Fruit has the natural ability to fly.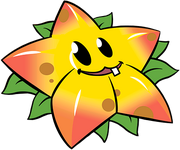 Hobbies
Plant himself in the ground at night, to see the sky.
Quotes
"Nnngh, where's the sun?"
"Shiny stars!"
History
He has been with Bamboom taking the mail. He also saw Flaming Pea's reply to Snow Pea.