Tea Rex




Don't forgot about pizza, he loves it.

Gender

Male

Full name

Muhnjopopulis Tea-Rex

Likes

Meat, Zombies

Dislikes

Caveman, Kissing

Favorite food

Meat
"
GRRROWWWWWL ROAAAARRRRR GROWWWWWLLLLL
"
 

— Tea-Rex
Tea Rex is a plant owned by
NP
.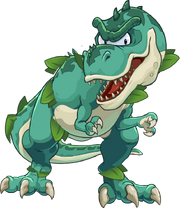 Personality
He likes to crush at least one caveman everyday and always eats meat and pizza.
Hobbies
Powers and Abilities
SHUT UP ABOUT YOUR DUMB OOGA BOOGAS!
Steps on you.
Meat Me!
Uses meat as a club and whacks you on the head until you become dumb.
Ad blocker interference detected!
Wikia is a free-to-use site that makes money from advertising. We have a modified experience for viewers using ad blockers

Wikia is not accessible if you've made further modifications. Remove the custom ad blocker rule(s) and the page will load as expected.