Vase Zombie
He is a dangerous character, being able to decimate a lawn with the specialized zombies in his vase, based on health, (Knight Zombie), speed, (Chicken Zombies), projectiles, (Jester Zombie), and offense (Explorer Zombie). All have suprior strengths and weaknesses, being magnets, multi-hits, nonmatierial shots, and ice.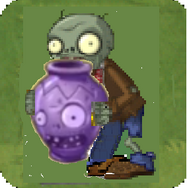 Moves
Vase Slam: 50 damage. 10% chance of Stun.
Hidden Tricks: Summons a Knight, 7 Chickens, a Jester, or an Explorer.
Defend: Takes 30% less damage the next turn.
Pot-a-zooka: Deals 80 damage to 2 foes.
Pot Roast: Burns and deals 30 damage to all foes.
Rage Move: Vasebreaker Facebreaker: Deals 10 damage to self and 200 damage to 2 foes.
Ad blocker interference detected!
Wikia is a free-to-use site that makes money from advertising. We have a modified experience for viewers using ad blockers

Wikia is not accessible if you've made further modifications. Remove the custom ad blocker rule(s) and the page will load as expected.